Orlando DJ Services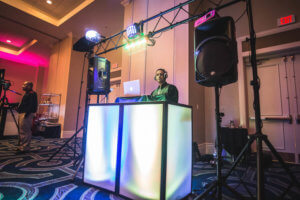 If you are looking for a professional DJ at an affordable price, look no further! Every one of our DJs are great all around people who love what they do. Whether you just want someone to play music at your event, or you want a DJ to rock the party, we're here to do just that. Our DJs are upbeat and can get the crowd dancing at just the right time during your event. Equipped with a very large library of music, we are able to read the crowd and play the right music for that particular moment. We are also emcees too so we can orchestrate the night as little or as much as you would like. The photo on the left is our premium DJ booth setup with uplights to illuminate it, included in our gold package or available as a $75 upgrade.
Our Premium DJ Booth With Facade
We use top of the line professional equipment to bring you only the highest quality sound possible. Our selection of music ranges in everything from the 1940's to the most popular music today and includes music of all genres. If you are interested in setting up a custom music playlist, we can do that for you.
If you would like to add event lighting to enhance the night, we can help you with that too.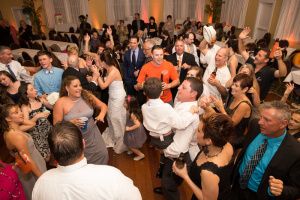 A good DJ does much more than just play music. A good DJ will do things throughout the whole event, starting from when the guests begin to arrive, to create the right energy. We choose hand-selected songs from moment to moment. So we know that when everyone is eating it is appropriate to lower the volume levels and play slower music, and when it's time to get the dance floor rocking we know how to do that too.
We will work with you closely beforehand to make sure that we know exactly what it is you're looking for so we can meet or exceed your expectations. DJ packages vary depending on the individual needs of your event. Rest assured, whether it's a wedding, sweet 16 party, or any other special event, we'll make sure your night is one to be remembered forever.
Music is the Life of the Party
The DJ brings the Music to Life
(Visited 713 times, 1 visits today)