Weddings DJs At Their Finest
Here at Best Choice DJs, we specialize in weddings. Weddings are one of the most special things we can experience in our lives. You will remember your wedding day for the rest of your life, and many of your guests will too. Your wedding is a once in a lifetime event that lasts for a lifetime in your heart. We are truly honored to share this special experience with so many wedding couples. Our #1 priority is your satisfaction and we're dedicated to making your wedding the best it can be.
Why A DJs Is Essential
One of the most important aspects of your big day is choosing the right entertainment. As your wedding DJ, we don't just show up and play music. We work with you beforehand to create a wedding plan to establish a clear vision of how you want your special day to go.  Your wedding should be as unique as you are. So, together we will  customize a wedding plan that perfectly suits your desires. When you hire us, you're not only getting top-quality service the day of your event, we are here to help you any way we can throughout the whole process from the day you hire us to after the wedding. Rest assured knowing that the entertainment for your special day is in good hands with us.
Read more about why it's essential to hire a wedding DJ. Think you can hire any DJ or the cheapest DJ? Read our blog post about the difference between wedding DJs and regular DJs and why you need a DJ with wedding experience. We also have a list of  the top 10 questions you should ask your wedding DJ before hiring him/her, as well as  other blog posts with wedding tips.
Wedding Photography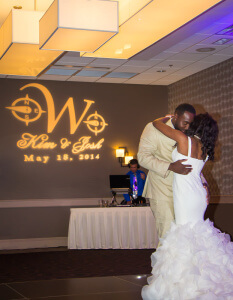 They say a picture is worth a thousand words. But not all pictures are created equal, and neither are words for that matter. A picture of your wedding day brings you back to that special moment in time. It's like freezing a split-second in time so that you can treasure it forever. You can take your photos and have an album made, or put one on the wall to see every day. No matter how much your memories fade over time, your photos will preserve your memories for you.
We offer professional wedding photography services and we have great rates. Check out our Flickr page to  see some of the photos we've taken from previous weddings. See if our style of photography fits your standards and taste. If you'd like to see some of the photo and video equipment we use, check out this blog post and video. Contact us about how we can help you on your big day.
Wedding Slideshow
Wedding Videos
We believe wedding video production is the most overlooked and undervalued service in the wedding industry today. That's partly due to it being in its infancy stage. Photography has long been a common part of weddings. And even though photography is great, it doesn't capture motion or audio. The importance of capturing motion and audio cannot be overstated!
Imagine being able to look back at your graceful first dance for many years to come. Imagine being able to listen to your wedding vows for the rest of your life. Don't the vows make a wedding what it is? It's your professing your love and commitment with your partner that everyone gathers to see. Without a wedding video, those vows are lost and can never be replaced. Not to mention the toasts, the natural smiles, laughs, jokes, and all the other great random moments that a video camera is able to catch.
With our low priced
wedding videography packages
, there's no reason to not have a wedding video made. Check out our
youtube channel
to see some of the wedding highlight videos we've made or watch the one below.
Contact us
for more information and a free custom quote.
Tell Your Love Story
A great way to make your wedding more meaningful, memorable, and fun is to show a video of you telling your love story. Love story videos are a great way to get your guests up to speed with your relationship, giving them the backstory leading up to your wedding day. This can be a great touch to add to your wedding reception, making it as unique as you are! Of course, you'll need to work with your videographer before the wedding, and you'll probably need a projector to make the video large enough for your guests to all see.
Contact us
about creating a unique love story video for your wedding!
(Visited 486 times, 1 visits today)